Robbie English's advanced educational achievements in real estate
Posted by Robbie English on Monday, May 8, 2023 at 11:02 AM
By Robbie English / May 8, 2023
Comment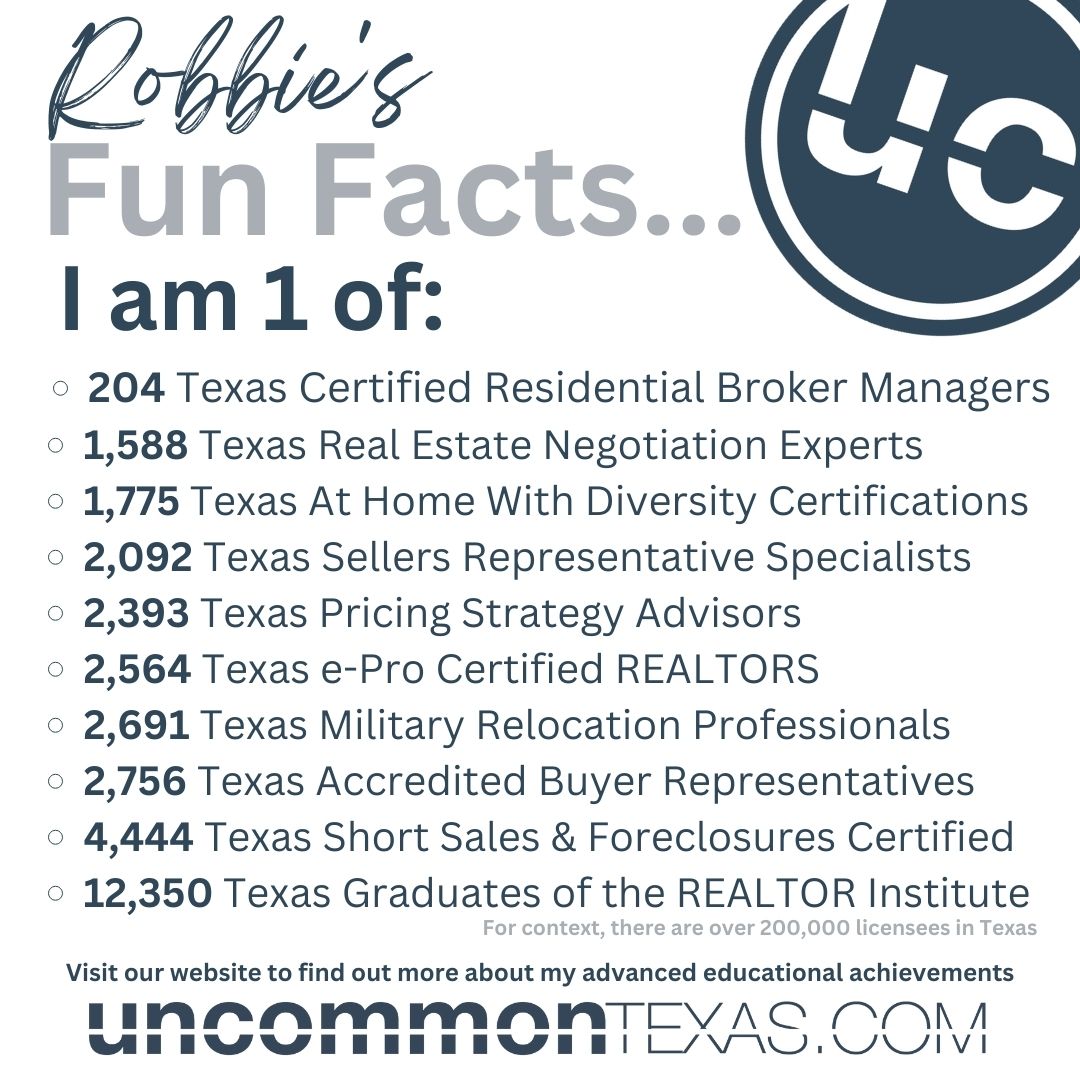 And for context, there are over 200,000 licensees in Texas.
My Dad was an attorney and top in his field. He always had other lawyers coming to him for advice and opinions, other firms visiting ours to see how we implemented our processes and how he represented his clients. He focused a lot on education because he believed it made him sharper, taught him things that he might not yet be aware of, and exposed him to thoughts and processes he might not have thought of in the manner it was presented. He attended his legal CE classes and always had a legal pad with notes of ways to improve his systems and processes as well as ideas of new processes, systems, and changes he felt were impactful enough to create change to better his clients. It wasn't until this morning that I realized I do the same thing and have followed his lead.
As a REALTOR, I have an opportunity to attend advanced educational offerings in certifications and designations. They are classes that I can take and many of which I now have the blessing to teach. Each designation and certification I have obtained as well as most educational classes have shared concepts and ideas to me enabling me improve my processes. They have exposed me to ideas which I have grown from and all of them have helped me represent my clients better and better guide the agents to which I sponsor.
Just like when I watch a movie or read a book, I approach education with the same openness to find what the author is trying to say. There is something that I always pickup and implement after I take a class, read a book, or watch a movie. And, many times the same thing occurs after I have taught a class and presented the material - I see it in a new way that I hadn't before because a new concept or thought has resonated with me this time that had not in the past.
Education is one of the most important cornerstones for being better in any chosen field. Being exposed to new ideas, seeing things in a new way, and expanding my previous beliefs about a topic makes you a better human and a more savvy practitioner in your field.
Choosing a REALTOR to guide you with your real estate goals who has achieved these educational advancements is more important than number of deals… quality over quantity factors in. Someone never knows what they don't know if they are not exposed to new ideas or processes. A REALTOR without these educational opportunities has a higher opportunity to make the same mistakes time after time after time. And for you, the consumer, you can easily find a list of educational achievements that your REALTOR has achieved by visiting TREC.texas.gov and searching their name or license number.
If you are interested in reading more about what advanced education certifications and designations I have achieved, you can click here for a complete list of what designations and certifications I have achieved and what they cover. As for why I do it, that is simple! I do them for you, my client to provide you with the best possible real estate experience on what is many times the most expensive purchase you make.