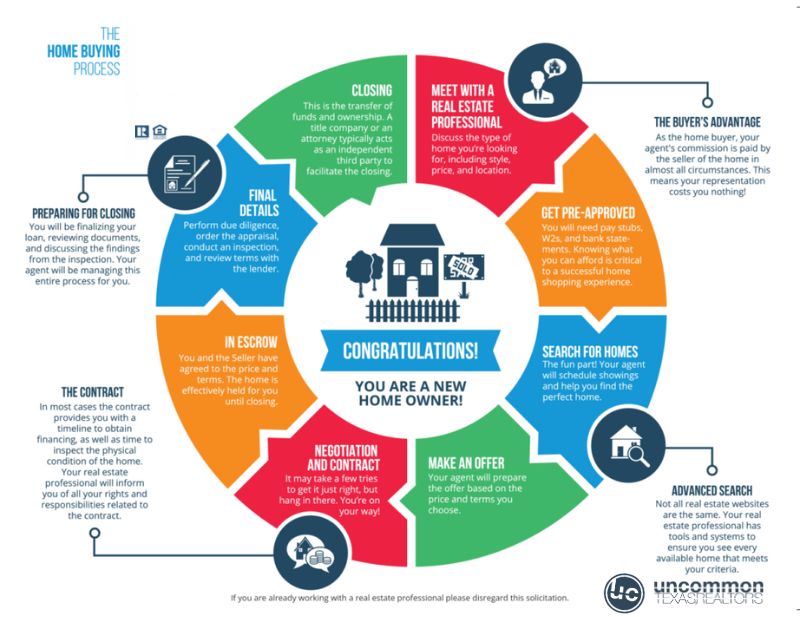 Moving to Austin, Texas from New York City and buying a house...
The roadmap to moving to Austin, Texas from New York City and buying a house looks a little different than I am sure it did in New York City. You are about to embark on the exciting journey of finding your ideal home here in Texas. Whether it is your first home or your tenth home, a retirement home, or an investment property, I will make your home-buying experience fun and exciting. I have a feeling the process will be a little different here in Texas than it was in New York City.
I can help you find the ideal home with the least amount of hassle because I am devoted to using my expertise and the full resources of my office to achieve these results!
Purchasing a home is a very important decision and a big undertaking in your life. In fact, most people only choose a few homes in their lifetime. I am going to make sure that you are well equipped for your move to Texas and armed with up-to-date information for your big decision. I am even prepared to guide you through every phase of the home-buying process.
It is my intent with this article to provide you with helpful information for you moving to Austin, Texas from New York City and buying a house. Hopefully, it will be an invaluable guide and will encourage you to call me and work with me to get you home in Texas.
Congratulations...
Congratulations on your decision to make Texas home. I know that it is going to be somewhat of a change moving from New York City to Texas. You have made the biggest step already. I know you will love it here and I hope that your experience in becoming a Texan is a positive one and as seamless as possible. Owning a piece of Texas is an awesome thing and there is a lot to do and consider during your journey.
So let's take an exciting journey together! I look forward to meeting your real estate needs every step of the way!
Getting Pre-Approved...
Getting preapproved in Texas by a local lender is going to be seen as quite favorable by sellers in Texas because there are so many things that are different in Texas from other states. Many buyers apply for a loan and obtain approval before they find the home they want to buy. You also have the ability to obtain a full credit approval where the mortgage lender goes through the entire approval process with you and then adds in the property later. I am happy to talk to you more about this.
Pre-qualifying will help you in the following ways:
Generally, interest rates are locked in for a set period of time. You will know in advance exactly what your payments will be on offers you choose to make.
You won't waste time considering homes you cannot afford.
Pre-approval will help you in the following ways:
A seller may choose to make concessions if they know that your financing is secured. You are like a cash buyer, and this may make your offer more competitive.
You can select the best loan package without being under pressure.
How Much Can You Afford?
There are three key factors to consider:
The down payment
Your ability to qualify for a mortgage
The closing costs associated with your transaction.
DOWN PAYMENT REQUIREMENTS:
Most loans today require a down payment of between 3.5% and 5.0% depending on the type and terms of the loan. If you are able to come up with a 20-25% down payment, you may be eligible to take advantage of special fast-track programs and possibly eliminate mortgage insurance.
CLOSING COSTS:
You will be required to pay fees for loan processing and other closing costs. These fees must be paid in full at the final settlement unless you are able to include them in your financing. Typically, total closing costs will range between 2-5% of your mortgage loan.
QUALIFYING FOR THE MORTGAGE:
Most lenders require that your monthly payment range between 25-28% of your gross monthly income. Your mortgage payment to the lender includes the following items: 1. The principal on the loan (P) 2. The interest on the loan (I) 3. Property taxes (T), 4. The homeowner's insurance (I).
Your total monthly PITI and all debts (from installments to revolving charge accounts) should range between 33-38% of your gross monthly income. These key factors determine your ability to secure a home loan: Credit Report, Assets, Income, and Property Value.
Items Needed for Pre-Approval...
Lending practices are pretty much the same nationwide. However, just in case you have never bought a home, I did want to cover some of the items that you will need to get pre-approved. You may already have banking and lending relationships in New York City, however, I am going to encourage you to find a mortgage professional in Texas that is more familiar with handling transactions in Texas and is familiar with our real estate contract.
Here are some initial items you are going to need to obtain your mortgage pre-approval.
Government-issued photo ID
Two months current pay stubs
Last two year's W2s and income tax returns
Complete copies of checking and savings statements for the last three months
Copies of statements for IRAs, 401k, savings, CDs, money market funds, etc.
Employment history for the last two years with addresses and contacts
Employment information for your job/position in Texas
Proof of commissioned or bonus income
Residency history for the last two years with addresses and contacts
Assets for down payment, closing costs, and reserves; must provide a paper trail
If self-employed, last two years tax returns, current profit, and loss statement and balance sheet; a copy of partnership/corporate tax returns for the last two years if owning more than 25% of the company
FHA requires a driver's license and social security card
VA requires original certificate of eligibility and DD214
Other things may be required such as previous bankruptcy, divorce decree
Before We Start our Home Search Journey...
We are going to be viewing a variety of homes to get you movign to Texas from New York City and buying a house, we need to get something things out and in the open right from the start.
School Boundaries in Texas
School boundaries may change or be hard to determine which address feeds to what school. I would encourage you to contact the school district for the property you decide on to further verify that the address of the property feeds to the school of interest. These school boundaries change as do the schools that homes feed to. Make sure that you are fully comfortable with the school district.
Square Footage
Measuring the square footage in a home is not an exact science. Calculations can vary based on the person doing the measurement, the information available, and the agent of the calculation. I do not measure homes and the listing agent probably has not either. If it is deemed necessary, some sellers might have had their homes measured but it is not the standard. If the square footage of the home you are interested in purchasing is a factor in your decision, I would like to encourage you to have the property measured and the measurement calculated by a qualified professional such as an appraiser, engineer, or architect.
The Soil in Texas
Another thing right off the bat that we need to address is Texas soil; it's imperfect. I am not sure how the soil was in the area of New York City where you live or lived, but there are some things we need to talk about with the land here in Texas. I know what you are thinking, everything is amazing in Texas but the dirt is what it is. The soil conditions throughout Texas vary greatly and many of the soils will move (some more than others). This movement many times will affect the foundation of the home. You will not find basements typical in Texas but you will find a lot of slab foundations and pier and beam. Sometimes the movement of the foundation might cause cracks to appear in the walls and other parts of the building which can also occur in new construction. The concrete curing process of a newly built home could also cause an issue with movement.
Moving to Austin, Texas from New York City and buying a house is not going to be without adjustments; and the weather is sure to be one of them. Although we do not have what might seem like 4 separate seasons, the season changes in the weather in Texas may also cause the foundation to move. When we find the home you are interested in, it might be wise to have a foundation company look at the home if you or the inspector deem it necessary. If we do, this will need to be done during the inspection period which we will discuss in a few.
Annexation
If the property you find is located outside of the limits of a municipality, you are going to want to contact nearby municipalities to find out if the property may later be annexed by that municipality. You will contact the surrounding municipalities for this information.
The Home Search
Once we obtain a pre-approval from your mortgage loan officer, we will then want to start looking at houses. You are going to want set up an account and start familiarizing yourself with the uncommon website. You will hear me tell you to come and get lost in the city and I mean just that. I strongly encourage you to come here and get lost in the city. Find out what areas you like more than others, the style of homes, the traffic-flow, and everything else. Check out the restaurants, grocery stores and other things that you visit on a regular basis. I will refuse to tell you what areas are better than others. It's a question that is impossible to answer because everything views different aspects as important.
Once you come and get lost (remember your phone has GPS) and you have identified an area of town that you like the most, then start looking at neighborhoods. I can, of course, help you with price points and styles of homes. I will have already started sending you homes to look at. But you are going to want to look at more than just the home. You are going to want to look at the neighborhood and the area as well. I always recommend driving the top neighborhoods that you narrow down on your list at various times of the day. Drive-by in the mid-morning, afternoon, evening and night. If you want to get a good representation of the area, drive it at different times; if need be, get out and walk it.
As you start to become more comfortable with the area of town that most interests you, then it's time to start focusing in-on the houses in that area. The home search in most cases will take care of itself when you find the area of town and neighborhood(s) you want to target for your new Texas home. I know I do not need to remind you, but Texas is different than New York City. I am happy to answer any question I can to help you get assimilated.
After you find the area(s) and home(s) of interest and we find the one you want, it will be then time to start looking at a comparative market analysis and market condition reports to verify pricing and to look at making an offer.
Making an Offer...
Once you have found the home you wish to purchase, you will need to determine what offer you are willing to make for the home. I will be there to guide you through the offer process every step of the way. It is important to remember that the more competition there is for the home, the higher the offer should be – sometimes even exceeding the asking price. Remember, be realistic. Make offers you want the other party to sign!
To communicate your interest in purchasing a home, we will present the listing agent with a written offer. When the seller accepts an offer it becomes a legal contract. When you write an offer you should be prepared to pay an earnest money deposit. This is to guarantee that your intention is to purchase the property.
After we present your offer to the listing agent it will either be accepted, rejected, or the seller will make a counter-offer. This is when we will negotiate terms of the contract if necessary.
The step-by-step contract procedure for most single-family home purchases is standard. The purchase agreement used is a standard document approved by our local real estate board.
The purchase agreement or contract constitutes your offer to buy and, once accepted by the seller, becomes a valid, legal contract. For this reason, it is important to understand what is written on the contract offer. Moving to Austin, Texas from New York City and buying a house here is going to challenges and I am here to do my best to make sure those challenges are limited and hopefully prevent any and all I can for you.
The Termination Option Period
Once your offer is accepted, you as the buyer will have to pay a Termination Option fee. I am quite sure the process here in Texas is quite different than that in New York City. I am no expert in New York City real estate, but I represented a lot of people moving here for the great city of New York City and there always seems to be a little payse for understanding just how our termination option period works. Okay... In Texas, we have an option period where for a certain number of days, you are able to take the home off of the market and have access to the home (during reasonable periods of time) for inspections. This is a time that we would schedule any necessary home inspections to make sure that there is nothing majorly wrong with the home.
The Termination Option period lasts for a negotiated period of time and we will have the unrestricted right to terminate the contract. Most buyers choose to purchase a termination option period and I would highly recommend you do as well. There are many things you will need to do during this period.
You will also need to have the property inspected and we have to have any requested repairs negotiated before this period of time expires. If it Termination Option time period expires and there are items you would like to have addressed, you have lost the ability to negotiate. Any and all negotiations have to be conducted during this time period.
Here are some of the things that will need to occur during the option period:
Property inspections
Apply for property insurance and obtain a written cost of coverage
If the property is located outside of the city limits, could it be annexed in the near future?
School district verifications
Is the property in a historic or conservation district?
Have your insurance agent pull a CLUE report for you and the property to make sure there are no issues with obtaining insurance
You need to check with the city and see if there are any unresolved permits that were opened previously;
You need to check the Texas Department of Public Safety website (www.txdps.state.tx.us). Here you can check out the sex offenders who may reside in the area.
What Happens Next...
Now that you have decided that you will be moving to Austin, Texas from New York City and buying a house, you have decided to buy your home, what happens between now and the time you legally own the home? A Title Company may handle the following items. NOTE: In different parts of the country, attorneys, lenders, escrow companies and other persons who are independent of title companies perform some or all of these functions. The process may be similar in New York City but have some big differences between the two states. Here in Texas, a Title Company attorney only represents the title company and does not represent either party (the home seller or buyer). If you would like your papers reviewed by an attorney, you are most certainly welcome to have an attorney of your choice at your cost review any of the papers.
Earnest Money – An agreement to convey starts the process once it is received at the Title Company. Once you submit the loan application, it is usually subject to a credit check, an appraisal, and sometimes, a survey of the property.
Tax Check – What taxes are owed on the property? The Title Company contacts the various assessor-collectors.
Title Search – Copies of documents are gathered from various public records: deeds, deeds of trust, various assessments and matters of probate, heirship, divorce, and bankruptcy are addressed.
Examination – Verification of the legal owner and debts owed. You should obtain a title insurance policy through the title company or at the very least have an abstract of title covering the property examined by an attorney of your choosing (at your cost) no later than the time requirements listed in the contract. If for some reason you are not going to purchase a title insurance policy, you will want to have the abstract of title examined at the very least during the option period. I will always recommend that you purchase a title policy.
Document Preparation – Appropriate forms are prepared for conveyance and settlement.
Settlement – An Escrow Officer oversees the closing of the transaction: seller signs the deed, you sign a new mortgage, the old loan is paid off and the new loan is established. Seller, agents, attorneys, surveyors, Title Company, and other service providers for the parties are paid. Title insurance policies will then be issued to you and your lender.
Title Insurance - There are two types of title insurance:
Coverage that protects the lender for the amount of the mortgage,
Coverage that protects the equity in the property.
Both you and your lender will want the security offered by title insurance. Why?
Title agents search public records to determine who has owned any piece of property, but these records may not reflect irregularities that are almost impossible to find. Here are some examples: an unauthorized seller forges the deed to the property; an unknown, but rightful heir to the property shows up after the sale to claim ownership; conflicts arise over a will from a deceased owner, or a land survey showing the boundaries of your property is incorrect.
For a one-time charge at closing, title insurance will safeguard you against problems including those events an exhaustive search will not reveal.
Obtaining An Inspection...
Whether you are purchasing a new or resale property, I highly recommend that you have a professional home inspector to conduct a thorough inspection regardless of the age of the home. Inspections look at the condition of the property that is presently visible at the time of the inspection. Inspections, in general, are limited in scope because they cannot cut into walls to see what is occurring inside or beneath the property. It is, however, the best profess to see what items may need to be addressed that you might not or could not see with the untrained eye.
When it comes to obtaining an inspection, I have a list of inspectors I like to recommend to my clients however I do not and cannot warrant their work. I am not an inspector and by virtue of my real estate license do not have that expertise.
The inspection will include the following:
Appliances
Plumbing
Electrical
Air conditioning and heating
Ventilation
Roof and Attic
Foundation
General Structure
Water wells
Septic
The inspection is not designed to criticize every minor problem or defect in the home. It is intended to report on major damage or serious problems that require repair. Should serious problems be indicated, the inspector will recommend that a structural engineer or other professional inspect it as well.
Your home cannot "pass or fail" an inspection, and your inspector will not tell you whether he/she thinks the home is worth the money you are offering. The inspector's job is to make you aware of repairs that are recommended or necessary.
The seller may be willing to negotiate completion of repairs or a credit for completion of repairs, or you may decide that the home will take too much work and money. A professional inspection will help you make a clear-headed decision. In addition to the overall inspection, you may wish to have separate tests conducted for termites or the presence of radon gas.
If the property has a water well, I suggest that you have the equipment and water tested during the option period. You additionally will want to determine if the county, water district, or other area regulatory bodies require any registration or other action to begin using the well.
If the property has a septic tank and/or on-site sewage facilities you are going to want to have these systems also inspected. Special maintenance may be required for certain systems and you will want to determine whether the county requires any registration, maintenance plans or other requirements before using the septic system or on-site sewer facility.
In choosing a home inspector, consider one that has been certified as a qualified and experienced member by a trade association.
I recommend being present at the inspection presentation. This is to your advantage. You will be able to clearly understand the inspection report and know exactly which areas need attention. Plus, you can get answers to many questions, tips for maintenance, and a lot of general information that will help you once you move into your new home. Most important, you will see the home through the eyes of an objective third party.
Service Providers...
While moving to Austin, Texas from New York City and buying a house will mean you will be needing some new service providers. We are happy to make share our recommendations of service providers. These are vendors we have worked with in the past and that have been recommended to us by satisfied customers. Whether it is for an inspector, title company, mortgage lender, or anyone else, feel free to pick up the phone or drop me an email and I am happy to get you in touch with the right service provider for you. Please remember that these are only recommendations. These recommendations are made on an informational basis only and are offered as a convenience to you. We accept no responsibility.
Appraisal...
An appraisal is the official valuation of the property. It is different than a comparative market analysis (or CMA) and is performed by a licensed certified appraiser. The appraiser renders their estimate of value for the property in an appraisal report. This report is a document that you are going to have to pay for through your mortgage lender. You and I will have very little to do with this process. In certain situations, the lender will not require an appraisal to be done. An appraisal is something that I would encourage you to obtain even if you decide to purchase the property with cash. An appraisal should not be confused with a property inspection. They are two completely different things.
Obtaining A Home Warranty...
Regardless of whether you decide on a new home or a resale home, I am going to highly recommend that you purchase a home warranty.
Home Warranties for New Homes:
When you purchase a newly built home, the builder usually offers some sort of full or limited warranty on things such as the quality of design, materials, and workmanship. These warranties are usually for a period of one year from the purchase of the home.
At closing, the builder will assign to you the manufacturer's warranties that were provided to the builder for materials, appliances, fixtures, etc. For example, if your dishwasher were to become faulty within one year from the purchase of your newly built home, you would call the manufacturer of the dishwasher – not the builder.
If the homebuilder does not offer a warranty, we will want to be sure and ask why they do not.
Home Warranties for Resale Homes:
When you purchase a resale home, you can purchase warranties that will protect you against most ordinary flaws and breakdowns for at least the first year of occupancy. The warranty may be offered by either the Seller, as part of the overall package, or by the agent. Even with a warranty, you should have the home carefully inspected before you purchase it.
A home warranty program will give you peace of mind, knowing that the major covered components in your home will be repaired if necessary. Ask me for more details about home warranty packages.
Final Walkthrough...
Right before closing, we are going to want to walk through the property. During this walkthrough, we are going to want to check and make sure the property is in at least the same condition as it was when we made the offer to purchase. If the property does not satisfy the provisions in the contract, we will want to notify the listing agent and see what can be done to remedy the issue(s) before we will close on the property.
What Happens At Closing...
While you have been working so hard on moving to Austin, Texas from New York City and buying a house, this is the culmination of everything you have been working forward. A "closing" is where you and I meet with some or all of the following individuals: the Seller, the Seller's agent, a representative from the lending institution and a representative from the title company, in order to transfer the property title to you. The purchase agreement or contract you signed describes the property, states the purchase price and terms, sets forth the method of payment, and usually names the date and place where the closing or actual transfer of the property title and keys will occur.
If financing the property, your lender will require you to sign a document, usually a promissory note, as evidence that you are personally responsible for repaying the loan. You will also sign a mortgage or deed of trust on the property as security to the lender for the loan. The mortgage or deed of trust gives the lender the right to sell the property if you fail to make the payments. Before you exchange these papers, the property may be surveyed, appraised, or inspected, and the ownership of title will be checked in the county and court records.
At closing, you will be required to pay all fees and closing costs in the form of "guaranteed funds" such as a Cashier's Check. Your agent or escrow officer will notify you of the exact amount at closing.
What is an escrow account?
An escrow account is a neutral depository held by your lender for funds that will be used to pay expenses incurred by the property, such as taxes, assessments, property insurance, or mortgage insurance premiums which fall due in the future. You will pay one-twelfth of the annual amount of these bills each month with your regular mortgage payment. When the bills fall due, the lender pays them from the special account. At closing, it may be necessary to pay enough into the account to cover these amounts for several months so that funds will be available to pay the bills as they fall due.
Taking Possession of the Property
Most real estate contracts provide that the seller of the property will deliver possession of the property at the time the transaction closes at the title company. Sometimes we can offer a seller temporary leaseback as part of our negotiation tactics to enable the seller to move out of the property after closing. Whether you are taking possession of the home the day of closing or several days later, I would highly encourage you not to schedule any type of service(s) for that day. Things happen and complications can occur which could throw your scheduling in havoc. Take a beat and schedule those items for the following day.
If you are obtaining a mortgage, you are going to need to check and make sure that your lender will be able to fund the loan on the day of closing. If the loan does not fund, you cannot have access to the property. In addition, I am going to ask you to schedule your closing time with the title company as early in the day as possible. If we close later in the day there is a greater chance that the loan will not fund that day and you will not be able to get the keys, take possession, or move in or make changes to the property until after the loan has funded.
Moving In...
CONGRATULATIONS! You have closed on your new home and now you are ready to move! Think about your move as a series of small projects that you can begin while your home is under contract. Your move will progress as your contract and closing progress. That way, when the day comes to physically move your belongings, most of the details will be taken care of.
Keep detailed records – some moving expenses are tax-deductible and you may be able to deduct those. Please check with your tax advisor for more details.
Keep detailed records of all moving expenses of your journey moving to Austin, Texas from New York City and buying a house if your move is job-related. Many expenses, including house-hunting trips, are tax-deductible. If your move is 35 miles or more from your home, you can deduct your family's travel expenses, including meals and lodging; the cost of transporting furniture, other household goods, and personal belongings; food and hotel bills for up to 30 days in the new city if you have to wait to move into your new home; and the costs associated with selling your old home or leasing your new home. Again, please check with your tax advisor for more information.
And finally, I look forward to welcoming you home, in Austin, Texas.
I'd like to talk more about moving to Texas...